Back to News & Stories
A bike for Olivia
Eight year old Olivia dreamed of riding her bike to the park. But because her arms and legs aren't very strong, she wasn't able to manage the pedals, and steering and braking were a bit of a challenge too. She is much too grown up for a toddler's trike, and she desperately wanted to show off on her brand new, shiny red bike.
Remap helped Olivia to realise her dream. David, Olivia's local volunteer, fitted a special handle to the back of Olivia's 'grown up bike' so that Dad can give her a hand with steering and braking. He also made some clever adjustments to the pedals so that she still has to work hard, even when Dad is pushing.
Olivia is over the moon with her new bike and can't wait to show all her friends.
Would a custom-made adaptation help your child get active with their friends? Contact us!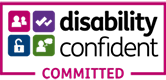 Copyright 2023. All Rights Reserved
Skip to content