Back to News & Stories
Abbie achieves new sporting success!
Abbie Hunnisett has been selected to represent Great Britain in the Anniversary Games at the Olympic Park in London on 26 July 2015.
This is a great achievement and we hope it will lead to her selection for the World Championships in Doha later this year.
Abbie has been helped her on her way by Remap West Kent who made the throwing chair that got her athletics career off to a great start. Watch out for her throwing the club for team GB!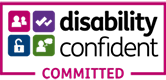 Copyright 2023. All Rights Reserved
Skip to content