Back to News & Stories
Bathroom Standing Platform
Margaux has skeletal dysplasia (dwarfism) and struggles to use bathroom facilities, particularly the washbasin, as a result.
Her parents have tried various steps but they are very difficult for Margaux to use and lack sufficient stability. She really needed a custom-made device to safely climb and stand on. To add to the challenge, no fastening could be made to the bathroom wall or floor and the existing sink & cupboards could not be altered.
Ralph Anderson picked up the challenge and visited Margaux with her OT from Derby Children's Hospital.
The device produced is a custom-sized step unit allowing Margaux to reach the standard height bathroom washbasin and taps.  The upper step is large enough to provide a safe standing platform with the side panels reducing the risk of a fall from height. The step surfaces have an eggshell finish with fine grit included to provide a non-slip surface.
To enable other family members to access the washbasin, the step treads may be folded vertically up close to the sink unit. Wooden dowel pegs lock the steps in place, to stop any movement of the treads when Margaux is using them. Because the platform and steps can be folded away the unit does not have to be moved when other people need to use the basin, and hence is always available for Margaux.
The unit gives Margaux the same independence as other children.
This project won the Able Magazine award 2018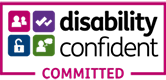 Copyright 2023. All Rights Reserved
Skip to content