Back to News & Stories
Bronze medal for Abbie!
We are so proud of Abbie Hunnisett who won a bronze medal on 22nd October at the IPC Athletics World Championships in Doha. With a new personal best of 21.09, Abbie took the bronze medal position using a throwing seat made by Remap.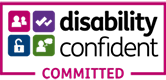 Copyright 2023. All Rights Reserved
Skip to content