Back to News & Stories
Grateful clients pedal for Remap
Three severely disabled people raised £326 pedalling their special exercise bike, to say "thank you" to Remap engineers from Southampton, who have made their bike so much easier to use.
Supported by NHS Southern Health, the three exercise regularly at the Eastleigh Therapeutics gym, but found it hard to keep their feet on the pedals.  New pedals designed and made by John Heath to overcome this problem, proved a great success.
Many support workers are also extremely grateful not to have to sit on the floor holding feet onto footplates anymore!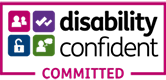 Copyright 2023. All Rights Reserved
Skip to content