Back to News & Stories
Jade keeps volunteering
Jade supports her local hospice by volunteering in their charity shop each week. She's a key part of their team, helping to sort through donations and handle payments from customers. However, as her disability progressed, she became worried that she would be unable to continue in her role.
One of our volunteer engineers from our Norfolk West group, Alan, paid Jade a visit during her shift at the shop. He was able to make a few alterations to her workspace which made it easier for her to use. For example, he made the till lower so that it can be used while sitting down — an adaptation which has turned out to be helpful for several of the hospice's other volunteers as well.
Thanks to Alan's help, Jade is able to continue with her volunteering role and looks forward to her shift each week.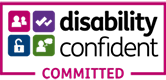 Copyright 2023. All Rights Reserved
Skip to content