Back to News & Stories
Keeley rides again!
Keeley enjoyed her recent riding lesson thanks to the mounting steps provided by Remap and Jaguar Land Rover. We reported earlier in the year that apprentices from JLR had helped Remap by building these magnificent mounting steps. Now we see disabled rider Keeley using them and reaping the benefits.
Remap works with Riding for the Disabled clubs across the country on projects like this. Do you know a club that needs our help?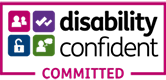 Copyright 2023. All Rights Reserved
Skip to content