Back to News & Stories
Laura and her baby out together!
New mum Laura uses a wheelchair because she has multiple sclerosis, but wanted to go outdoors with her new baby. Peter Bettridge, a volunteer with Remap Worcestershire, has made this possible by making a frame to attach baby Nancy's car seat to Laura's wheelchair. Now mum and baby can get enjoy life outside together.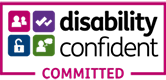 Copyright 2023. All Rights Reserved
Skip to content