Back to News & Stories
Remap announces new Chief Executive
The trustees of Remap announced today that David Martin has been appointed as the new Chief Executive Officer replacing Adam Rowe. With an extensive background in charity management, David previously held senior management positions in the Citizens Advice service before joining Remap.
"We congratulate David on this appointment and wish him well in the challenging but exciting times that lie ahead" said Chair of Trustees Fred Maillardet.
Outgoing CEO Adam Rowe joins the Kent based charity Carers First after three years with Remap.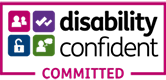 Copyright 2023. All Rights Reserved
Skip to content