Back to News & Stories
Remap at Naidex
We're delighted to be exhibiting at Naidex again this year. Naidex is Europe's most established trade, professional and public event dedicated to the care, rehabilitation and lifestyle of people with a disability or impairment. This esteemed event returns for an unprecedented 45th year, and will propel the industry into the future of inclusion, accessibility, empowerment and efficiency.
Showcasing 350 cutting-edge exhibitors, 250 ground-breaking seminars, live demos, 1-2-1 advice, world-class CPD accredited seminars and unparalleled networking opportunities, Naidex is a hub of innovation in the disability community, bringing the entire industry together under one roof for two unforgettable days.
Naidex is completely free to attend and welcomes groups, families, colleagues and friends. If you're thinking of attending, you can support Remap by clicking here to register for your free ticket.
Thanks for your help and we look forward to seeing you all there!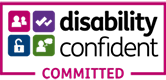 Copyright 2023. All Rights Reserved
Skip to content