Back to News & Stories
Remap at RISE
We're delighted to be exhibiting for the first time at RISE 4 Disability, the most comprehensive regional disability exhibition & conference within the UK.
Come and join us at the Kent Showground, Detling, on the 25th September for a free-to-attend disability event; bringing you services, products, advice and information all under one roof. As well as a full conference programme run by professionals from each sector, providing you with the most up to date and relevant information.
Support Remap and book your free ticket here!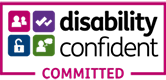 Copyright 2023. All Rights Reserved
Skip to content