Back to News & Stories
Remap podcast
We are grateful to Frances Leckie (pictured right) at Independent Living for recording a brilliant podcast about our work.
It includes contributions from Remap volunteers, Harry Kirby, Brian Unitt and Graham Stabler and we also hear from Sue Brown and Hazel Coleman,
both of whom have had solutions designed for them.
Follow these links to listen to the podcast or to visit the Independent Living website.
Many thanks Frances!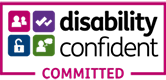 Copyright 2023. All Rights Reserved
Skip to content