Back to News & Stories
Tom Bradley wins 'Innovator of the Year' award
Tom Bradley, a volunteer with Remap Gloucestershire has been awarded 'Innovator of the Year' by the Blind Veteran's Association for his invention of an early warning system that detects if an individual is about to faint whilst walking.
The invention monitors posture of the user to give an audible warning when there is a likelihood that fainting may be imminent. Gordon Paxford, a member of the Blind Veterans Association who uses the device said, 'It's brilliant! It's made my life a lot easier and safer'
The award was presented by Major General (Rtd) Nick Caplin CB, Chief Executive of the Association, at the Annual Founders Day meeting in Brighton.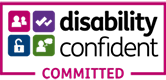 Copyright 2023. All Rights Reserved
Skip to content