Back to News & Stories
Vital help for Sarah
Sarah needed a way to lift baby Dexter out of his cot. Sarah can't use of her left arm and hand because of cerebral palsy. She also wanted a care table so she could change his nappy – it had to be something she could drive her wheelchair underneath.
Derek, a volunteer with Remap Northern Ireland (RemapNI) came up with the solutions for Sarah. The cot's legs were extended and the drop side was adapted by fitting a door so Sarah doesn't actually have to lift the baby – she takes him in and out through the side.
Derek then made a care table high enough to fit the wheelchair underneath and with drawers for all those useful things. Sarah said:
"The care table and cot are amazing! I really can't thank you all enough. It really has been life changing for Dexter and I. The first time I changed him myself on the table he looked at me with a huge smile on his face, like he knew something very special had just happened. None of these special moments (and I'm sure there will be many more) would be possible without you all; we are forever in your debt. Thank you so much for making our first family Christmas even more special".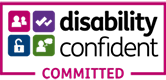 Copyright 2023. All Rights Reserved
Skip to content