Case Officer
WHAT WILL I BE DOING?
You will be using your engineer/maker skills to support a local branch to provide customised equipment to disabled people.
You will be processing and allocating referrals which have come from health professionals and individuals to members of your branch.
WHAT ARE WE LOOKING FOR?
Ideally, you will have experience as either an engineer or hobbyist, who can assess the suitability of a referral to the branch.
You will be warm, approachable and confident when working with call referrers/clients to initiate a detailed discussion around their request and assess its suitability.
Good IT skills are essential as many of our referrals come through our online portal.
PRACTICAL CONSIDERATIONS
Access to a computer, and the ability to work from home are essential. Ideally, you will be available to contact clients during working hours.
You will be required to attend regular branch meetings. Any out-of-pocket expenses will be paid.
Back to Volunteering Roles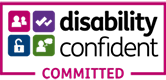 Copyright 2023. All Rights Reserved
Skip to content