Back to News & Stories
A communicator for Tricia
Tricia was having trouble communicating with those around her. Her low vision and other disabilities made talking and using equipment difficult. The solution, specially developed by Remap South Herts, was a dedicated speech communication device. It has six large buttons on top. When you press a button it plays a pre-recorded message through loudspeakers in the box. Individual messages can be easily customised and re-recorded as needed. The buttons are widely spaced and have different shapes so they are easy to recognise. And the whole thing is portable and battery powered.
Tricia is delighted with her new communicator and is now able to express herself to those around her. Her husband was shown how to record messages and quickly stored a set to try out, knowing that they can be changed. Tricia's health professional is also very pleased and is sure it will help her understand Tricia in the future.
Technical details for this project are available on MakeAbility.
You can also read about Tricia on Remap South Herts' own website.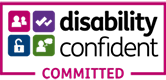 Copyright 2023. All Rights Reserved
Skip to content