Back to News & Stories
Aids to help disabled mum
First time mum Jenny found carrying her baby a worry and changing its nappy especially challenging – you see Jenny has only one functioning arm.
Allan, a volunteer from Remap Derby, solved the nappy changing problem by making an adjustable frame that incorporated a small sling to hold baby's feet. This frame keeps the legs up in an appropriate position while the nappy is changed.
He also made a harness for the baby, similar to that used in "reins" for small children, with an attachment ring at the front. Jenny wears a lanyard round her neck which she clips onto the attachment ring when she picks up the baby. This keeps baby nice and safe.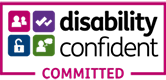 Copyright 2023. All Rights Reserved
Skip to content